---
(LANA) Benghazi poets greet an evening of poetry on board the ship (Logos Hope)
Pulbished on: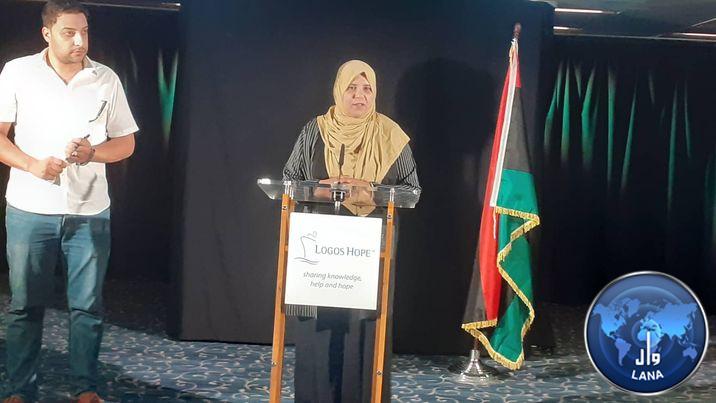 Benghazi, August 13, 2022 (LANA) - The poets of the city of Benghazi organized a poetry evening on Thursday evening on board the floating book fair "Logos Hope" that is visiting the city these days.
The correspondent of the Libyan News Agency said that the evening was attended by a group of artists and writers, including the writer "Mohamed Al-Masallati", the writer "Mohamed Souissi", the artist "Souad Khalil", the artist "Salem Issa", the writer "Mohammed Al-Zarrouk" and the director "Rafea Al-Mahjoub" in addition to the participation of poets "Khattab" Al-Tayyib Khattab, "Rehab Sheneeb", "Hisham bin Sariti", "Ali Al-Mansoori", "Aisha Bazama", "Afaf Abdel Mohsen" and "Issam Al-Ferjani".
A member of the committee formed to evaluate poetic books, "Aisha Bazama" - told the (LANA) reporter - (I participate in the poetry evening with three poems: "My Forgotten City, Flourishing on Its Thrones and Apple Harbors"), and I am happy with the success of the Logos Hope exhibition. The evaluation of books, headed by the Director of Publications Department in the Eastern Province, "Anwar Al-Shuwaidi, and we excluded about 300 titles that do not correspond to our culture).
The poet "Aisha Bazama" explained that the exhibition was well received by the public, denying the existence of any books that affect the Libyan culture and identity, and that the ship's management responded by withdrawing all the books that the committee requested to withdraw and put them in the ship's warehouses.
(LANA)