---
Publication of the book (Manifestations of the Prisoner of the Epidemic) by Ibrahim Al-Koni.
Pulbished on: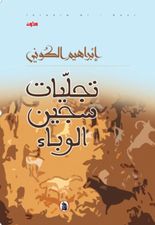 Tripoli, June 27, 2022 (LANA) - A book has recently been published by the Arab Foundation for Studies and Publishing, entitled (The Manifestations of a Prisoner of the Epidemic) by the Libyan novelist Ibrahim Al-Koni.
Al-Koni said in his introduction to his book that the value of any creativity only inhabits the position of mythology, inhabiting precisely the place that belongs to the tint of creativity, which means that the value of the place dwells in the mythology of the place, because this mythology is what creates the identity of the place, the identity of this place, to distinguish it from anywhere; It alone is empowered to fabricate the reality of the place, which in the end will be nothing but the treasure of the place, the wealth of the place, which will be marketed as an argument that makes the glory of the place.
The writer wonders... But is mythology only embracing the role of the mouthpiece of a place as a place?
To answer the reality that we cannot recognize this honor for mythology unless it surpasses itself, and assumes the powers of the official spokesperson for the spirit of the place, and not in the name of the place, as a mere place. She flaunts what she is the interpreter of lost time, borrowing the power of memory: the memory of forgotten reality.
The new version of "Ibrahim Al-Koni" is located in (454) pages of medium pieces.
(LANA)