---
Al-Koni holds telephone talks with the President of Niger on a number of issues of concern to both countries.
Pulbished on: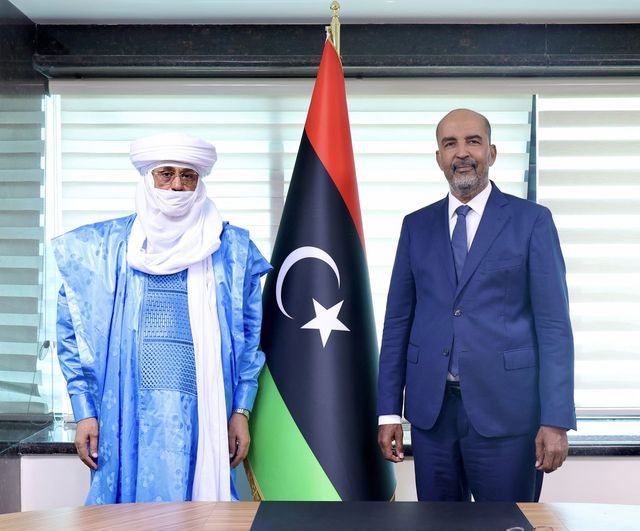 Tripoli, May 24, 2023 (LANA) - The Representative of the Presidential Council, Mr. Musa Al-Koni, received this afternoon, Wednesday, the Ambassador of Niger to Libya, "Isiad Ag Kato", who conveyed the greetings of the President of the State of Niger, "Mohamed Bazoum" and his appreciation for the historical relations that bind the two neighboring countries.
During the meeting, a phone call took place between the deputy in the Presidential Council and the President of Niger, where the two sides discussed ways to develop relations between the two countries, enhance joint cooperation in the field of border security, economy and trade, and work to complete the road linking the two countries, which will contribute significantly to increasing trade exchange between Libya. and African countries.
"Al-Koni" assured "Bazoum" during the call that Libya and Niger are linked by a natural strategic depth, and they are united by cultural and civilizational integration throughout history, expressing his hope for more logistical and security coordination to enhance security and facilitate the natural movement of movement, in order to develop opportunities for economic development between the two countries, and contribute to creating a social and economic renaissance and stability in the region.
For his part, President "Bazoum" revealed that the capital, Niamey, will host a summit of the (XY) assembly during the coming period, in order to discuss all issues of concern to the member states of the assembly, entrusting Representative "Musa El-Koni" to convey his greetings to the President of the Presidential Council, "Mohamed Al-Munfi." And the deputy in the parliament, "Abdullah Al-Lafi," and to the Libyan people, wishing prosperity and stability for Libya.
For his part, the Ambassador of Niger affirmed that Libya constitutes the focal point for the security of the region and the continent, considering that the stability of Libya is a source of safety for all neighboring countries.
...(LANA)....