---
Al- Sayeh discusses with French Foreign Ministry delegation readiness of Commission
Pulbished on: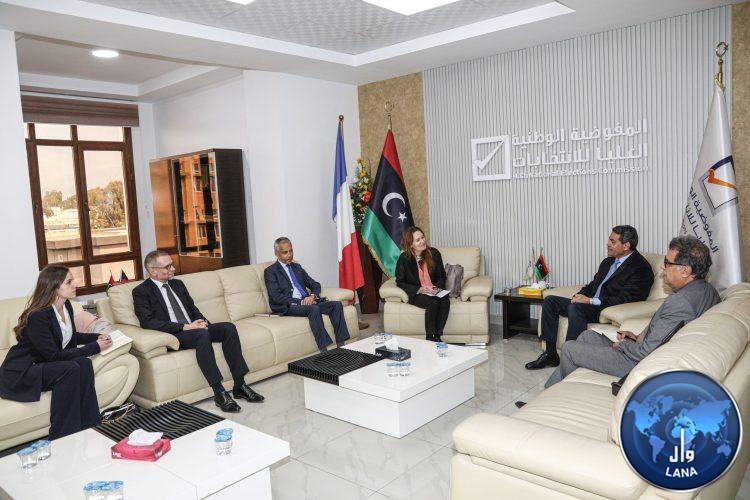 Tripoli, January 31, 2023 (LANA) - Chairman of the High National Elections Commission (HNEC), Imad Al-Sayeh, discussed, Tuesday, with a delegation from the French Ministry of Foreign Affairs, the Commission's readiness and willingness to implement the upcoming presidential and parliamentary elections.
The Commission's sources said that the meeting, which was held at the Commission's office in Tripoli, dealt with a presentation of the capabilities available to the Commission in terms of human, technical and logistical resources that enabled it to succeed in accomplishing the electoral entitlements that it was assigned to since its establishment.
It also dealt with the difficulties and challenges that the Commission faced while carrying out its duties and responsibilities towards the aspirations of the Libyans to conduct elections characterized by fairness, transparency and credibility, and governed by internationally applicable standards and principles.
Sayeh discussed with the French delegation ways to continue technical support as a means to maintain the Commission's readiness to implement any entitlements that are a result of political consensus and the extent of the contribution of international support provided to the Commission through the United Nations Mission in enhancing the electoral knowledge and skills of the electoral management cadres.
The delegation of the French Ministry of Foreign Affairs, which is currently on a visit to Libya, included the Director of the Department of North Africa and the Middle East, the Ministry of Europe and Foreign Affairs, Mrs. Anne Qiqin and the Director General of Administrative Affairs and Development at the French Ministry of Foreign Affairs, Julien Stemmer, accompanied by the French Ambassador, Mustafa Mahrja.
=Lana=