---
Libyan parties offer a road map to get out of the crisis.
Pulbished on: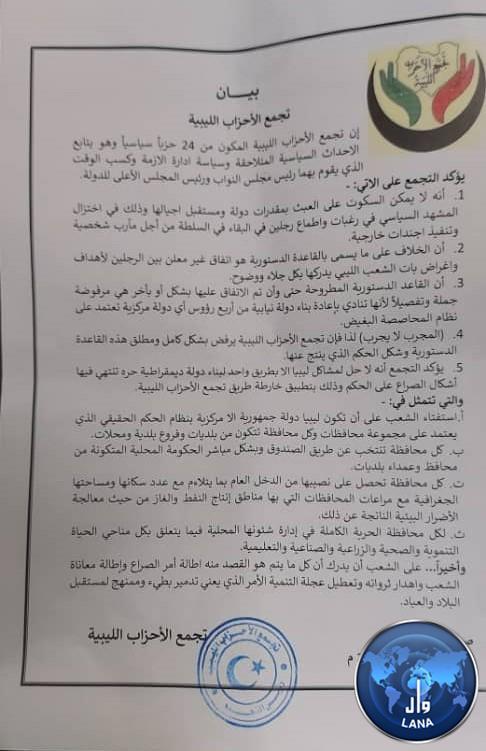 Tripoli, January 24, 2023 (LANA) - The Gathering of Libyan Parties affirmed its refusal to the so called tampering with the capabilities of the state and the future of its generations, and reducing the political scene to the desires of people and their greed to remain in power for personal purposes and the implementation of foreign agendas.
The assembly stressed that the dispute over the so-called constitutional rule is an unspoken agreement between two people for goals and purposes that the Libyan people have become aware of clearly, expressing its rejection of this rule, and the form of government that results from it because it calls for rebuilding a representative state with multiple heads, and a central one that relies on quota system.
In a statement, the Libyan News Agency received a copy of it, the assembly affirmed that there is no solution to Libya's problems except in one way, which is building a free democratic state in which all forms of conflict over governance will end, by applying the road map of the Libyan parties.
The road map - according to the statement - is represented by calling for a popular referendum for Libya to be a decentralized republican state with a real system of government that depends on a group of governorates, and each governorate consists of municipalities, municipal branches and localities, and that the democratic process begins with direct elections and through the fund in all governorates, during which an election is made, local government consisting of the governor and mayors.
The road map stipulates that each governorate obtains its share of the public income in proportion to its population and geographic area, taking into account the governorates that have oil and gas production areas in terms of dealing with the resulting environmental damage, developmental, health, agricultural, industrial and educational aspects of life.
The statement was signed, and received by (LANA), by the following parties (Justice and Progress, the National Charter, the National Project, Voice of the People, Mawtani, Al-Jumu', Libya the Homeland, the Free Patriotic Movement, the Social Civil Movement, Our Democratic Homeland, the Libyan National Gathering, the Libyan Blessing, the Libya Movement of the Third Road, democratic guidance, democratic independents, parts of Libya, national sovereignty, the vanguard, the League, protectors of the homeland, national cooperation, national democracy for justice and development.