---
Chairman of the House Foreign Affairs Committee responds to Williams' remarks about politicians in Libya, saying they lack objectivity.
Pulbished on: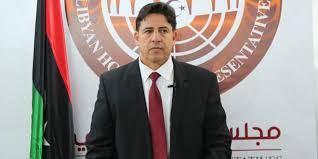 Benghazi, 14 Aug 2022 (Lana) The Chairman of the Foreign Affairs Committee of the House of Representatives, Youssef Al-Aqouri, responded to the recent statements made by former UN Special Envoy in Libya, Stephanie Williams, regarding the political elite in the country, expressing regret at these statements which, he said, lacked objectivity.
In statements carried by the House Communication Office, Al-Aqouri said that Williams's judgement involved all the political class in Libya, ignoring the sincere efforts of some, to reach a settlement that restores stability to the country, and that what it issued lacks objectivity and understanding of the difficult conditions in which Libyan politicians work, and hate campaigns against them.
Al-Aqouri added that Williams should have spoken openly to the Libyan people about the work of the mission, which made a catastrophic mistake, and did not seriously pursue accusations of bribing members of the National Dialogue Forum, which produced the Al Dabaiba government, which is the most corrupt government, and future generations will suffer as a result of its irresponsible economic policy.
Stephanie did not talk about the performance of the Government of National Unity, which had a great chance of succeeding in important files such as the unification of divided government institutions, economic reform, reconciliation and decentralization, he said.
The Chairman of the Foreign Affairs Committee explained that Williams was not keen in her briefings to the Security Council, to clarify the fact of working on important files for the stability of the country, such as the unification of sovereign institutions, reconciliation and decentralization, and that she was not close to everyone and was not keen to respect the emerging democracy in Libya, where the mission's position was weak in supporting the Libyan government headed by Fathi Pashagha, which came according to democratic mechanisms to achieve national consensus and represent all Libyan political parties in one government.
"While we appreciate the efforts of the former envoy, which achieved some success, most notably the economic file and the ceasefire during her work with the Former Envoy Ghassan Salama, in addition to supporting dialogue on the constitutional track, Stephanie also missed great opportunities to support the efforts of Libya's political leaders to end the division, and ignored many sincere efforts to restore peace and stability to the country and end the division," he concluded.
=Lana=