---
Libyan Center for Seismology publishes details of the Benghazi earthquake, its depth in the ground.
Pulbished on: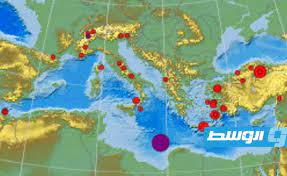 Tripoli, 13 August 2022 (Lana) Libyan Center for Seismology revealed details of the earthquake that hit Libya on Friday evening, which was felt by the inhabitants of Benghazi at 11.31 pm. The branch of the Libyan Center for Seismology in Gharyan said that global seismic monitoring networks recorded an earthquake of a magnitude of 5.3 on the Richter scale, at 11:31 pm on Friday, northwest of the city of Benghazi, "at the latitude of 33.55 and longitude 19.03, 10 kilometers below the surface of the Earth," and was felt by the residents of Benghazi and nearby areas, but had no effect, according to the statement published today by the Libyan Center for Remote Sensing and Space Sciences.
The statement pointed out that the Mediterranean region is seismically active, due to the movement of the African plate towards the Eurasian plate.
A number of Benghazi residents said yesterday on their SMS pages that they felt the tremor, at 11:31 pm on Friday night. The Euro-Mediterranean Seismological Center explained on its website that an earthquake occurred in the Mediterranean Sea, 187 kilometers northwest of Benghazi, with a magnitude of 5.3 on Richter scale, and at a depth of 10 kilometers below the surface.
=Lana=