---
African-French Phone discussions to solve the Libyan crisis.
Pulbished on: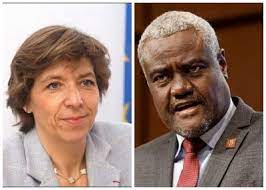 Tripoli, 8 August 2022 (Lana) Chairperson of African Union Commission Musa Faki discussed by phone, with French Minister of Foreign Affairs Catherine Colonna, international efforts to solve the Libyan crisis.
According to the French Foreign Ministry statement ,the discussions between the two sides dealt with efforts to mobilize the international community to solve the Libyan crisis, Sahel region, and the African Horn ,as well the war in Ukraine and its repercussions on global food security.
This discussion came a week after French President Emmanuel Macron's visit to Cameroon ,Benin ,and Guinea-Bissau , and the meeting was an opportunity to discuss extent of the partnership between France ,Europe and Africa.
It's noteworthy that the High-Level Committee of the African Union intends to hold an inclusive conference for comprehensive national reconciliation in Libya to be a complementary track in case the ongoing UN dialogues fail.
=Lana=