---
During his visit to the Palestinian embassy. Al-Dabaiba confirms the dismissal of Al-Mangoush.
Pulbished on: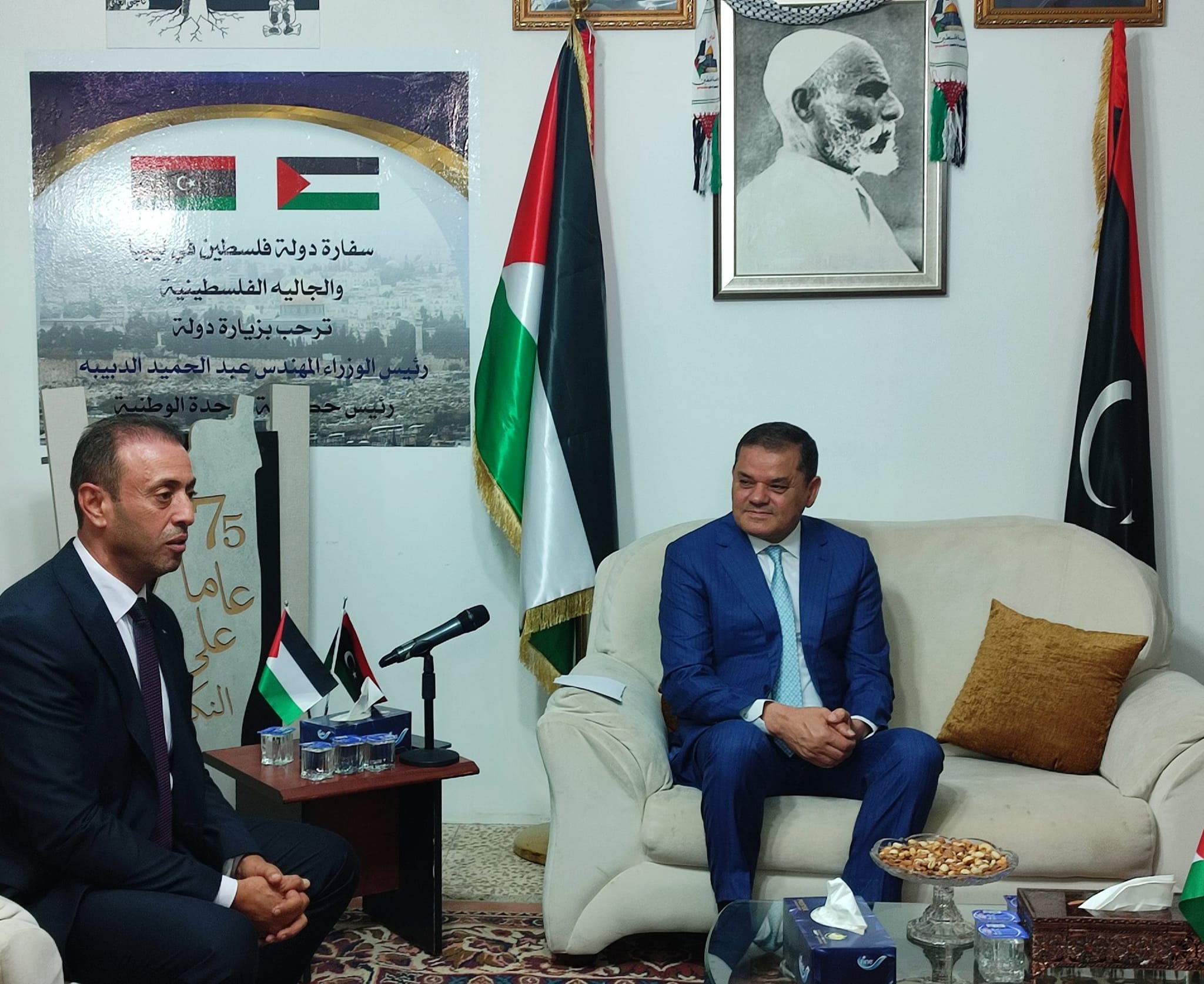 Tripoli, August 28, 2023 (LANA) - The head of the national unity government, Abdul Hamid al-Dabaiba, affirmed the depth of the Palestinian-Libyan relations, and that the Libyan people stand with everything they possess with the Palestinian cause, rejecting any normalization with the Zionist occupation state.
This came during a visit that Al-Dabaiba made today to the Embassy of the State of Palestine to express Libya's position in support of the Palestinian people and their just cause from inside the headquarters of the Embassy of the State of Palestine, according to a statement by the embassy.
Al-Dabaiba also confirmed his rejection of what the Minister of Foreign Affairs, Naglaa Al-Mangoush, did, and announced her dismissal from her post, and that this position does not represent the government and people of Libya.
Al-Dabaiba added that Libya considers the resident Palestinian community to be Libyans, and they are treated as their Libyan brothers.
For his part, the Palestinian Ambassador, "Mohammed Rahal," welcomed Al-Dabaiba's visit, describing it as historic and important, during which he affirmed Libya's honorable position and support for the Palestinian constants approved by the Palestinian leadership, until the declaration of an independent Palestinian state with Jerusalem as its capital.
The Palestinian ambassador expressed his thanks to the state of Libya and its people, with all its popular and political components, who declared their rejection of normalization and any meetings with the occupying state, who staged massive popular demonstrations that spread to all Libyan cities and expressed their support for Palestine and the justice of its cause.
The Palestinian ambassador affirmed that the State of Palestine and its leaders are fully consistent with the decisions of the Libyan leadership in this regard, and thanks the people of Libya and its leadership for this stand, which reflects the Arabism of the Palestinian cause among the Arab peoples, especially the brotherly Libyan people.