---
Russia's new ambassador to Libya will go to the capital, Tripoli.
Pulbished on: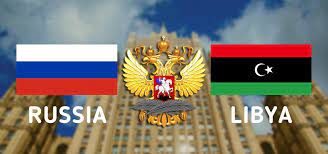 Moscow, March 28, 2023 (LANA) - Yesterday, it was announced in the capital of the Russian Federation, "Moscow", that the new Russian ambassador to Libya, "Aidar Aghanin"; Who was appointed by President Putin, on December 29, 2022, Ambassador Extraordinary and Plenipotentiary of the Russian Federation to Libya, who will head to Tripoli.
This came in statements by Russian Deputy Foreign Minister Mikhail Bogdanov, broadcast by Russia Today channel "RT", in which he said: "The Russian ambassador to Libya, Aidar Aghanin, will go to Tripoli, where the Russian diplomatic mission intends to resume work fully, but he has not set a date for that." .
Bogdanov, who also holds the position of Special Representative of the Russian President for Middle East and African Affairs, added in a statement published by the Russian "TASS" agency, yesterday, Monday, that (the Russian Federation's ambassador will go to Libya and that the Russian side is counting on ensuring the security of its diplomatic mission in Libya, This is an important priority).
Bogdanov announced earlier that Russia plans to reopen its embassy in Tripoli in the near future, as well as open a consulate general in Benghazi.
It is noteworthy that "Aidar Aghanin" held many positions, as he worked in the Political Planning Department in the Russian Foreign Ministry, representative of the Russian Federation in the Palestinian territories, advisor to the Russian embassies in Jordan and Slovenia, and director of the Russia Today Arabic channel.
...(LANA)...