---
The United Nations High Commissioner for Refugees denies seeking to resettle refugees in Libya.
Pulbished on: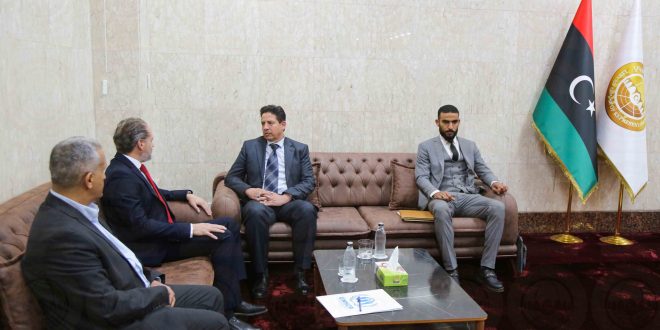 Benghazi, March 14, 2023 (LANA) - The Director of the Office of the United Nations High Commissioner for Refugees (UNHCR) in the city of Benghazi, Ali Bibi, denied the UNHCR's attempt to resettle refugees in Libya, stressing that its mission is to help asylum seekers resettle in other countries.
This came during a meeting today, Tuesday, with the Chairman of the Parliament's Foreign Affairs Committee, "Youssef Al-Aqouri," at the headquarters of the House of Representatives' office in the city of Benghazi, according to what the parliament published on its official Facebook page.
During the meeting, Bibi reviewed the assistance provided by the Commission in the health and educational fields, such as providing equipment for hospitals and maintaining schools targeted by the Commission, noting that the most important obstacle to the Commission's work is the lack of a memorandum of cooperation.
For his part, Al-Aqouri said during the meeting that the House of Representatives is very keen to support the work of United Nations humanitarian agencies such as the UNHCR in appreciation of vulnerable humanitarian groups, provided that they take into account national interests and preserve national sovereignty.
He also stressed that Libya cannot solve the problem of migrant and refugee flows on behalf of the countries of the region, pointing out that Libya is actually experiencing a humanitarian crisis as a result of these flows and requires intensified local and international efforts to mitigate its effects.
Al-Aqouri indicated that the Foreign Affairs Committee in the Libyan House of Representatives needs to have access to all information related to the Commission's projects, in order to confirm the principle of transparency, according to its competence in monitoring and monitoring.
At the conclusion of the meeting, the two sides agreed to continue coordination and cooperation, especially in the field of training and capacity building related to the ability of the Libyan authorities to respond to humanitarianism and protect vulnerable groups.
...(LANA)...