---
Arab Parliament: Libya's security is an integral part of Arab national security.
Pulbished on: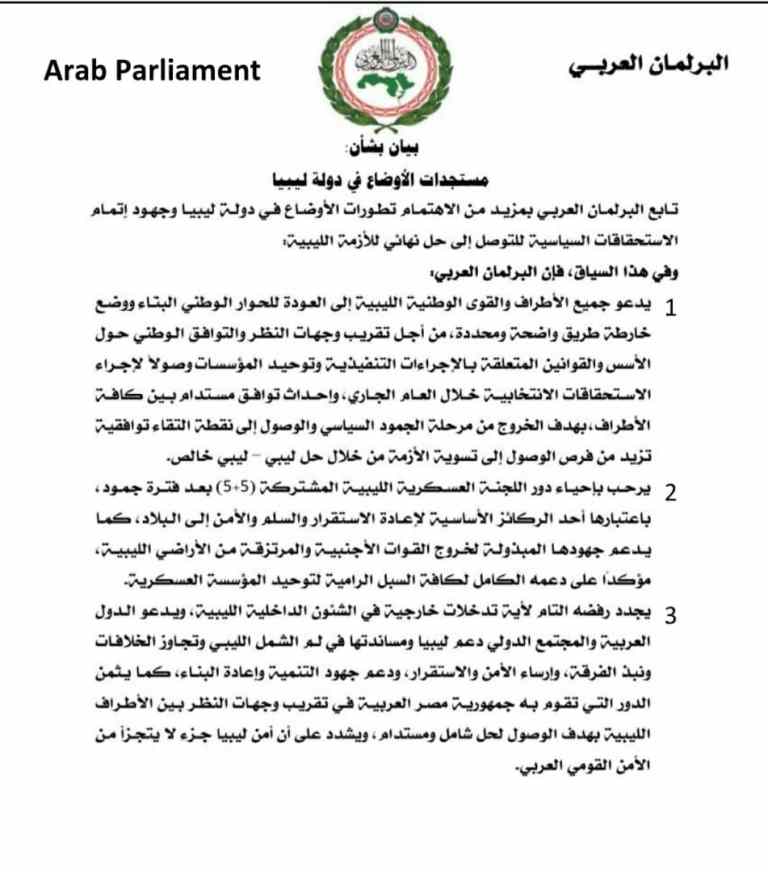 Tripoli, February 06, 2023 (LANA) - The Arab Parliament renewed its total rejection of any foreign interference in Libyan internal affairs, calling on all Arab countries and the international community to support them in reunification, overcoming differences, renouncing division, establishing security and stability, and supporting development and reconstruction efforts.
The Arab Parliament - in a statement issued today regarding developments in Libya, published on the official page of the Libyan House of Representatives - called on all Libyan national parties and forces to return to constructive national dialogue and to develop a clear and specific road map in order to bridge views and national consensus on the foundations and laws related to executive procedures and unify Institutions up to conduct electoral benefits during the current year.
The statement also stressed the need to create a sustainable consensus among all parties in Libya in order to get out of the stage of political stalemate and reach a consensual meeting point that increases the chances of reaching a settlement of the crisis through a purely Libyan solution.
In its statement, the Arab Parliament welcomed the revival of the role of the 5+5 Libyan Joint Military Committee after a period of stagnation, as it is one of the main pillars for restoring stability, peace and security to Libya, stressing support for its efforts to remove foreign forces and mercenaries from Libyan territory, and affirming its full support for all means aimed at unifying the military institution.
In a statement, the Arab Parliament appreciated the role played by Egypt in converging the views of the Libyan parties with the aim of reaching a comprehensive and sustainable solution, stressing that Libya's security is an integral part of Arab national security.
... (LANA) ...