---
Trabelsi and Bathily discuss role of the Ministry of Interior in the works of (5+5) Committee.
Pulbished on: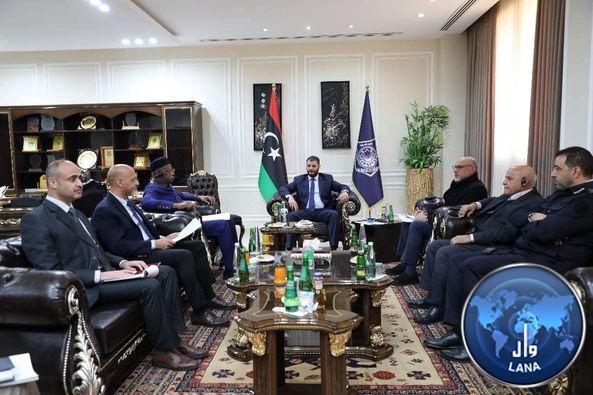 Tripoli 5 February 2023 (Lana) the Designated-Minister of Interior, Emad Trabelsi, discussed yesterday, with UN Envoy to Libya Abdoulaye Bathily, and his accompanying delegation, a number of issues related to the effective role of Ministry in the work of the 5+5 committee, illegal immigration file, protection and guarding borders, combating Transnational organized crime.
The SMS page of the Interior Ministry stated that Trabelsi reviewed the ministry's action plan to support security directorates and its police stations, indicating that the ministry will launch next days the second phase to support the security directorates around the capital, and supporting the educational facilities guarding authority, and the ministry's preparations to secure and protect elections at the municipal and national levels in order to lay the foundations for security throughout Libya.
Bathily praised the Ministry's efforts and its positive impact on the security situation, praising the importance of this meeting, and stressing the effective partnership between the mission and the ministry and the rest of the international organizations affiliated with the mission.
=Lana=