---
(Al-Dabiba) participates in the graduation of a new batch of Brigade (444) members
Pulbished on: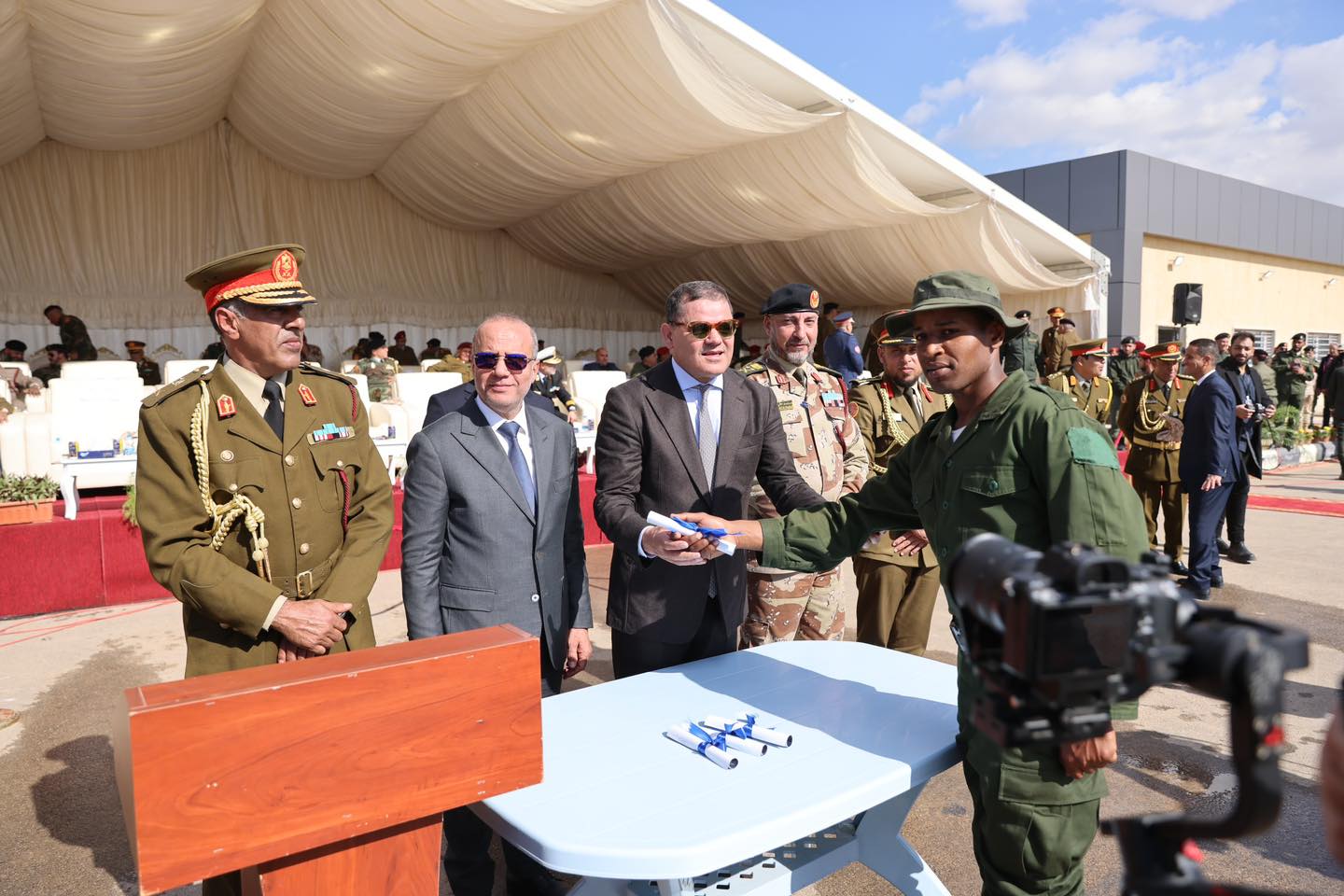 Tripoli, February 2, 2023 (LANA) - The Prime Minister of the Government of National Unity and Minister of Defense, "Abdul Hamid Al-Dabiba," participated this morning, Thursday, in the celebration organized by the "444" Combat Brigade in the Salah al-Din region, on the occasion of the graduation of the fourth batch, which includes 340 personnel.
The ceremony was attended by member of the Presidential Council "Abdullah Al-Lafi" and the Chief of the General Staff of the Army, Lieutenant General "Muhammad Al-Haddad", the Border Staff Commander of land, air and sea weapons, the military prosecutor, the head of the Logistics Authority, the head of the Operations Authority, the military inspector general, the director of the Military Accounts Department, and the commanders of the Sabha and Tripoli regions West Coast and Central Region
The celebration began with a presentation of the graduates' columns, symbolic columns of the brigade and the Thunderbolt forces of the 444th Brigade, vehicles that enjoy defense and combat, and displays of accurate shooting with live ammunition to hit targets.
In a speech on the occasion, the head of the National Unity Government, "Abdul Hamid al-Dabaiba," expressed his appreciation to all graduates and members of the 444th Brigade, stressing that the graduation of the military batches will be the building block in the way of building a military institution.
He said that what threatens our country from lurkers and what ravages it will not discourage our determination to continue building this army on solid technical foundations and clear pillars of a military institution.
He added, "Our goal from the beginning was to move this country towards stability and return the Libyan decision to the Libyans, so they decide their future through free and fair elections, and we are continuing to create conditions, build youth and build institutions until we reach the lofty goal of stabilization and the country's path to advancement and elevation."
For his part, the Chief of the General Staff of the Libyan Army, "Mohammed Al-Haddad," said in a speech, "This celebration today is the result of a continuous effort to build an army again, brick by brick, after its capabilities collapsed."
Al-Haddad saluted the soldiers who go through the training grounds and work day and night in order to advance the military institution, indicating that the celebration reflects the efforts for the renaissance of the Libyan army, which has been weakened and debilitated by the events the country is going through.
At the end of the ceremony, the graduates took the oath, and the first results and rankings were announced. Graduation and appreciation certificates were awarded to the trainers in the brigade.
... (LANA) ...